https://www.ctpost.com/local/article/In-Bridgewater-a-Village-Store-with-85-13263360.php
In Bridgewater, a 'Village Store' with $85 boxes of chocolate
Photo: Jane Stern / For Hearst Connecticut Media
It is such a treat when unexpectedly I find a great place to eat. When I am off duty and just enjoying the scenic beauty of Connecticut, it is a gift to find a terrific meal. This is what happened when I was driving around Bridgewater a few days ago with no plan but to look at the beautiful countryside and imagine what it would be like to live here.
This part of Connecticut reminds me of a aspirational Ralph Lauren ad. Tastefully rustic, tantalizingly low key, reeking of wealth and privilege without the vulgarity of Beverly Hills or the Hamptons. This is not the land of glitz or bling.
As I was cruising along in my car, I saw a large white building, the sign proclaiming it to be a village store and bistro all under one roof. It was such a pretty place that I pulled in the driveway and was delighted that despite the fabulous location it was just my kind of place, meaning casual and affordable, a place you could order pancakes, egg sandwiches and a great slice of pie without relinquishing your 401K.
The term "Village Store" conjures up a place where country folk go to buy a barrel of sorghum or some calico cloth for a new apron. This is not why you would come to this country store. It is not a place for daily necessities but rather an airy display of interesting jams and jellies, some cookware and pretty little gifty things.
The more intriguing part of this all under one roof place is the bistro. In this case, bistro refers to an area of the store set up with tables and chairs. It is very casual, nothing swanky or off-putting about it. There is a simple menu but also glass cases that show off the wonderful baked goods and lunch specials.
The Bridgewater Bistro is a breakfast and lunch stop. While the village store stays open later, food service at the Bistro ends at 4 p.m., but on Thursday through Sunday, starts up again at 5. The hours are confusing enough that I would check in before going.
I have found two constants in this part of Connecticut. First, many of the best places to eat around here are only open for breakfast and lunch, and it is impossible to go anywhere without seeing displays of the locally made Bridgewater Chocolates, which are as delicious as they are expensive.
If you don't mind plunking down $85 on a modest box of chocolates, please do. They are very attractive and call attention to the fact that while not ostentatious, Bridgewater is home to actors, publishers and artists who are household names. Somebody must be gobbling up these chocolates, but it is not this budget-strapped writer.
I could, however, afford breakfast, lunch and pastries. My favorite breakfast item is the Big Pancake. I like the Shaker-like simplicity of the name. It is literally a single big flat pancake, a very good one to which you can add blueberries or chocolate chips. If you want a second Big Pancake it will add another two bucks to the bill.
Bridgewater is not showy, but it is trendy. In the last few years there I have seen a tsunami of avocado toast on cafe menus. Usually I am keyed into trends but avocado toast never registered on my radar until recently. Avocado toast is ubiquitous on every hip coffee shop menu. Some of it is little more than slices of ripe avocado on a piece of toast, while others like that served at the Bridgewater Bistro is over-the-top. It is a pastiche of fried egg, bacon, goat cheese, tomato on grilled country bread. I asked one of the young people behind the pastry cases why avocado toast was so popular. He looked at me with wonder. "Because it is so healthy," he said. I smiled, thinking at least I found a health food that even I liked.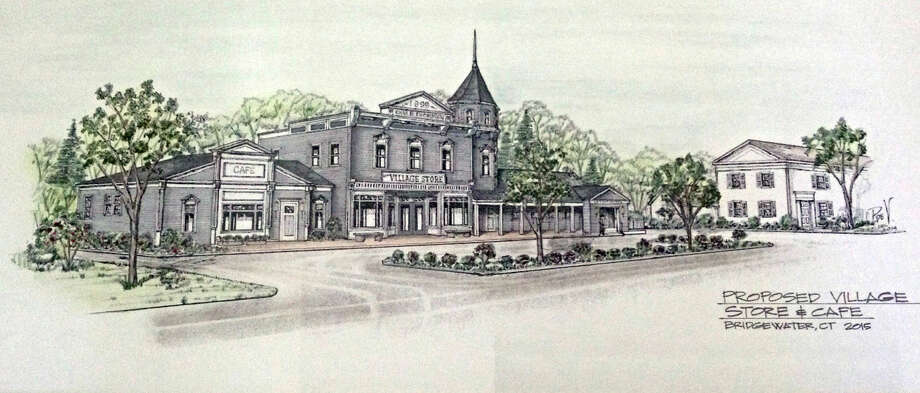 Photo: Contributed Photo / Christine Bottacari / Hearst Connecticut Media
The lunch menu is unpretentious. My favorite item was the Righteous Grilled Cheese, a melted cheese sandwich of sharp cheddar, gruyere, manchego and goat cheese on grilled country bread. You have the option of adding bacon, tomato or avocado to make it healthy!
The menu is short and simple. The Bistro is a neighborhood gathering spot where all ages can find something good to eat. Salads, soups, wraps, breakfast burritos, french toast and roast beef sandwiches are crowd pleasers.
Despite the beauty of Bridgewater and the glut of well-heeled creative types, the offerings here could just as easily be from your local luncheonette or diner.
I mean this as a compliment. Often in high-end towns it is hard to get "normal" food. Chefs and restauranteurs are often under the assumption that a snazzy crowd of diners wants something cutting edge. I have seen many places go out of business trying to sell some weird sous vide molecular concoction topped with truffle foam when the customer really just wants a hamburger. The Bistro has avoided this trap.
To be honest, my favorite way to dine here is not so much "dining" as ordering three or four items from the pastry case and a big cappuccino to go. The lemon squares are tart perfection, the croissants big and flaky and the slice of cake is made from scratch.
Bridgewater Village Store Bistro
27 Main St., Bridgewater
My plan for leaf season is to drive around Bridgwater with a good cup of coffee and a bag of Bistro lemon squares. If anyone feels the need to gift me with a box of Bridgewater Chocolates, I will not put up much of a fuss. I will, of course, make a theatrical display of refusing them, but then after I have been forced to accept them I will plow through the chocolates like a locust on a bender.
Jane Stern, a Ridgefield resident, co-authored the popular "Roadfood" guidebook series with Michael Stern.